A Day of Play, Socialization, & Mental Stimulation!
Dog Daycare - They don't have to be bored at home
When you work outside the home, leaving your pet alone during the day can be tough. You know the look they give you.
It isn't just sentimentality. Dogs are active and social creatures. They thrive when they have the chance to interact with other dogs, run, and play during the day.
Dog daycare at Kanupp Kennels provides your pet with a safe, loving, and active environment that allows them to have the socialization and stimulation they crave. We carefully supervise all interactions to make sure your dog will have a positive experience.
When you reunite at the end of the work day, your friend will be exercised, relaxed, and ready for a quiet evening at home.
We can even provide transportation services for your convenience.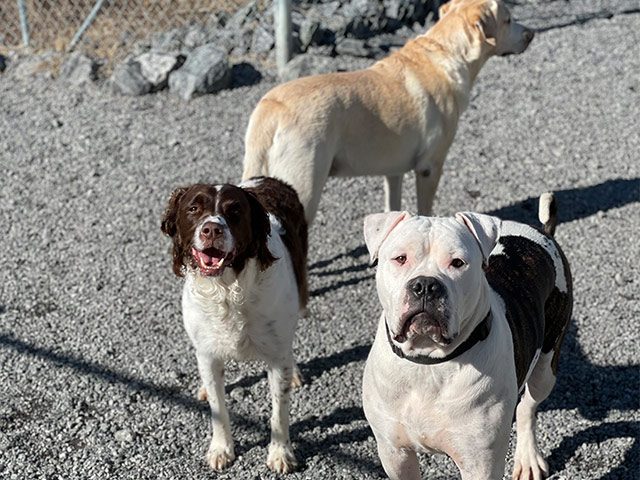 When you're at work, you want to have confidence that your dog is in good hands. Here's what makes Kanupp Kennels a great choice for your best friend:
Our trained staff has over 80 years of combined experience in caring for dogs.
Your pet will experience directed play and socialization supervised by our staff. It's like day camp for your dog.
We carefully introduce your dog to group play and give them their space when they need it.
Our facilities have heat and air conditioning to keep your pet comfortable in any weather.
Simplify your workday. We offer pickup and drop-off service.
We provide quality service at an affordable, all-inclusive price with no surprise fees.
For our daycare services, our hours are:
Monday-Friday, 8 AM to 5 PM
*Please give us 24-hour notice for van services.
Dog Daycare
$30/$25
full/half day
Half-day rate is for 4 hours or fewer.
Van Service
$10/$5
Both AM & PM/just one
If you're more than 15 miles from our facility, the charge is $20 for both AM & PM service.
Frequently Asked Questions About Dog Daycare
We will slowly introduce your dog to the appropriate group based on your pet's size and physical activity levels. We are careful to make sure all dogs have a safe and enjoyable experience.
Would You Like More Daycare Information?